Blog Home
The Big Change – Preparing Your Kids for a Big Move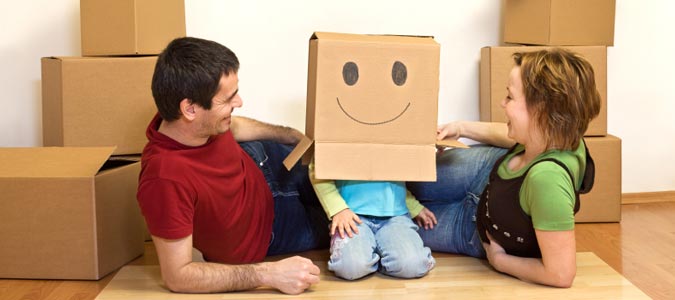 If you're moving to a new home, even in the same city or state, it can be stressful for everyone, but especially for kids. Depending on how old they are, it can be hard for them to readjust or understand the move – but we've seen thousands of people have happy moves that give their children a great start in their new home. Of course, if you're worried about your kids' wellbeing or health, you should seek the advice of a healthcare professional – but here are a few simple habits which could help children to thrive through a big move.

Let them in on the plan ahead of time
Parents often make the mistake of not telling their children that they're going to move to a new place until the move is only a few days away. This can shake up their world more than you want, because before they wrap their heads around it, huge changes could be taking place. Instead, as soon as you're certain that you're moving, consider having a simple conversation with your kids to tell them about the plan. When will you move, where you're moving to, what to expect, what to look forward to – chat through anything they want to talk about. Allow it to sink in, and answer all their questions so they understand what's happening.

Think of ways to keep their friendships
One of the big concerns that your kids may have is that they'll have to cut ties with their old friends. As parents, there are some things you can do to help take the edge off this. Talk to the parents of your kid's friends and explain the situation to them, and see if you can arrange goodbye playdates, and plan visits or Skype calls in the future.

Prepare for your new life in advance
It can be easy for adults to cope with a new workplace or a new neighborhood. For some, it can feel like an adventure – and that's true for kids, too, but as always, having a clear plan in advance can help them. So connect with the schools in the area and pick one that your kids are most likely to enjoy, and consider signing them up for a hobby class or sport they might enjoy trying, so they have something to look forward to.

Involve them in the work
Leaving kids out of the organizing, packing, and moving may seem like the logical way to get things done quickly - but it could also mean that they feel left out of the entire process, and that you miss an opportunity to help them move on. Instead, consider involving them in the work, and give them small but easy tasks that they're likely not to get wrong. Similarly, when you move to your new place, ask them think about how they want to decorate their new room. This can give them a sense of control, and lets them work out how they feel about such a big change.