Blog Home
Making the Most of an Open-Plan Living Space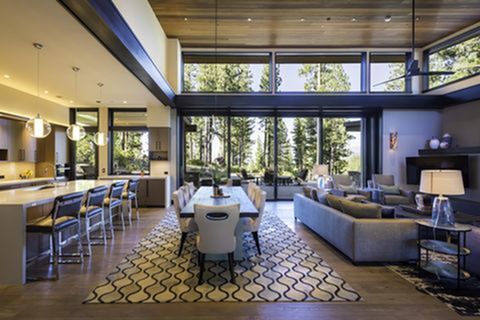 Open-plan living spaces are the norm in a lot of the units we're providing to our clients – the spacious feel they bring to a home is appealing to a lot of people, and the sense of shared space leads beautifully to a sense of shared life. You've likely lived in an open-plan space before, and if so, you'll know that an open-plan home comes with its own set of advantages – but if you're choosing a new home, it's always a good idea to think through your options, and work out how to make the most of what you'll get in an open-plan home.

The upsides to having an open-plan home
There are several upsides to having an open-plan home. Here are the top 3.

More natural light
Try an open-plan design, and you'll understand why it's one of the best ways to bring nature into your home. With no walls to block the flow of air and light, your home feels lighter, breezier, and more open to the world. You can reduce energy bills, as more natural light is filling your home, and you get the depth of color in your décor that only natural light can bring you.

Ideal for socializing
If you're someone who hosts a lot, you'll find that an open-plan home is great for socializing. Merging together the living room, kitchen, and dining space gives you plenty of opportunity for hosting dinner parties or brunches, and helps you to keep an informal, welcoming vibe no matter who's around. Your guests can mingle more freely, and your home allows you to entertain larger groups of people without any hassle.

Highlights the kitchen
An open-plan home makes the kitchen the focal point of the space. Anyone who loves to cook will know that food isn't just about the eating, but the enjoyment of preparation, sharing ideas, making the cooking itself a social event. By making the kitchen the place where everyone gathers, you can redefine the area to act as a comfortable space to unwind in, with people easily able to relax in the living room and still be part of what's happening.

Making the most of an open-plan home
Living in an open-plan home gives you plenty of opportunity to host parties for large groups of people. Here are some great ideas you can take inspiration from to make the most of your home.

Host a weekend brunch
Weekend brunches are great for unwinding, especially if your group of friends or neighbors have hectic schedules. An open-plan home makes for the perfect setting for weekend brunches – it's an easy environment to relax in, and a great way to start the weekend. After all, everyone needs to eat – so make it social at the same time!

Host a potluck
A potluck is also a great way to socialize in your open-plan home. Since the kitchen typically serves as the focal point, you can even organize a buffet with all the dishes that your guests bring to the potluck. This tried and tested idea also gives you a chance to enjoy everyone's best recipe, and make the food the star.

Organize a kitchen party
If you truly want to make the kitchen a part of your get-together, you could organize a kitchen party where your guests can make their own food from a set of available ingredients. Salads, starters, cocktails, and even barbecued foods can be prepared like this – it's a great way of sharing each other's creativity and getting new ideas for how to prepare things.