Blog Home
Creating a Great Home Theater Without a Dedicated Movie Room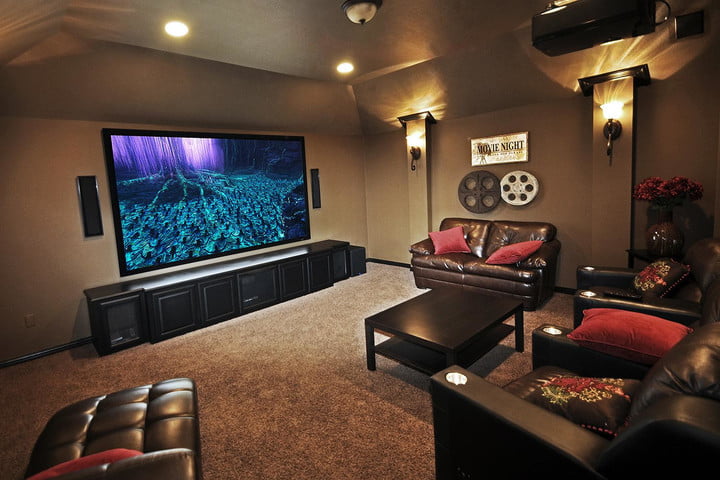 A home theater is a great addition to your house, especially if you're a cinephile, or you have kids who love watching movies back to back. It's also a great way for grownups to unwind during the weekend, either with classic movies or catching up on new shows. In a larger home, you might have a dedicated room for movies; if you're living in a managed community with apartments, however, setting up a home theater can get a bit difficult if you don't have a room to spare. Here are a few tips for getting the best viewing experience as part of an integrated living space.

Make your home theater part of your living room
Even in an open-plan space, you can still enjoy the experience of your very own home theater, by integrating it into your living room. The first thing to do is to get yourself a TV that will show the films the way the makers intended, with good depth of color saturation and light, at a good size, along with great speakers. When you want to convert your living room into a home theater, simply turn the lights down, clear up some space in front of the big screen, and sit back: the equipment is all already there and ready to go.

Invest in audio accessories
Most HDTVs are already equipped with excellent audio features; but you may find that you want something more. Sound design is one of the biggest parts of how a movie hits you in a theater, and film-makers invest a lot in getting it right; so it's worth investing in a great sound system that will give you all the sound channels you need, in surround sound.

You may find that setting up your theater in an existing room dampens the quality of audio. Fortunately, there are many ways to work around this, and it's down to what you like when it comes to audio. If you like your bass deep and loud, invest in a system with a good subwoofer; or for smaller rooms, consider bringing in a soundbar that includes multiple speakers packed into a compact body. If you have open bookshelves, another great idea to improve the sound is to put your speakers on shelves, the test the sound to make sure you're getting the full effect. This can help you hide unsightly cables as well.

Consider a projector
If you find that your TV screen isn't large enough, you could consider investing in a projector instead. There's one caveat here, though. You need to have an empty wall at home to put your projector to the best possible use, and a way to block out almost all of the light in the room while you're watching. This way, you can simply project your movie or your videos on the wall and sit back to watch it comfortably. The biggest advantage of using a projector is that you get to enjoy your movies on a much bigger screen than a TV has.

When you're just starting to set up your home theater, it can seem difficult, especially if you have to work around an existing room. The trick is to start small and focus on one aspect at a time – screen, audio, lighting, and so on. As you check each aspect off your list, your home theater keeps getting one step closer to reality.